Carpets and Carpet Tiles
If you are looking for quality carpets and tiles at amazing prices, then you came to the right place. MJV Flooring offer a range of selection of styles from wool to wilton as we believe that there is nothing like carpet to add comfort and warmth to a home.
Important things to take into consideration
Carpet Selection
When selecting carpet you are faced with many choices and the differences may not always be obvious. While you can see the difference in some carpets, in other cases you may find examples that look the same but differ substantially in price. Often, the reason for the price difference is the quality, grade or durability of the carpet. Before simply choosing the cheaper carpet, you should learn about the quality differences and make an informed choice. MJV Flooring will help you make the correct choice and help you get the most out of your budget.
Cost of the carpet
The cost of carpet is influenced by several factors, including the fibre used, the quality, the construction and the design. The price quoted may or may not include the cost of the underlay, gripper, door bars and fitting, so make sure you know what is included so that you can compare apples to apples. Furthermore, find out whether fitting includes the moving of any furniture and the disposale of old carpet.
Quality of carpet
Carpet quality is a down to fibre used, and the twist, finish and density of the fibre. Thickness is not a factor of quality; a common misconception. The thickness of a carpet may make a carpet more luxurious, but it does not affect its quality or performance. Thickness is a matter of preference, like colour or pattern and not a sign of good quality.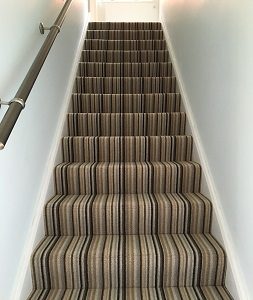 Carpets with professional advice & fitting
The modern design options and colours available provide the perfect foundation for any colour scheme. Carpeting at your house has several benefits from reduced noise to lower energy bills as well as safety.
Simply indulge in style and relax as our team of professionals will fit everything for you. If your not sure which carpet is best for your home? Let our experts help you.
Our team will make sure your carpet is installed correctly by assessing and measuring the area where the carpet will be fitted. From the removal and disposal of your old flooring, to laying your carpet and hovering your new carpet, we've got you covered.